Inaugural Tony Berry award is presented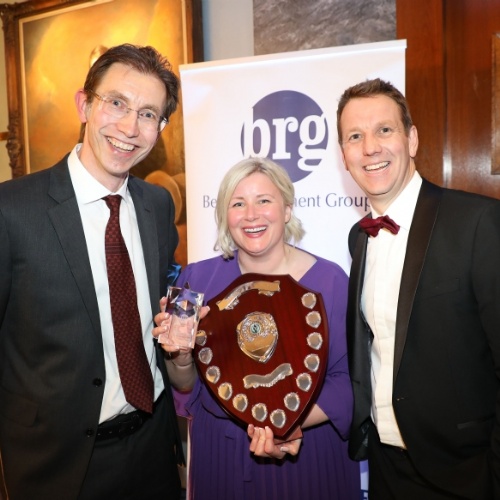 Berry Recruitment Group's
inaugural Tony Berry memorial award for the business's 'top biller' was won by Nicola Marshall from its Wild Berry Associates business in London.
The company's annual conference and award ceremony heard a tribute to its late chairman who died last year aged 81.
He was among the leading businessmen of his generation and his drive and deal-making took him to the chairmanship of a £1bn-valued company.
The award in his memory was presented by his son Spencer, the business development director, at the ceremony held at the Royal Thames Yacht Club in London.
Staff from all of BRG's near-40 branches from across England and Wales attended.
BRG Managing Director Chris Chown said: "Tony introduced the awards evenings in 2009.
"He loved finding a great venue, getting everyone together, recognising some amazing achievements and having some fun. And that's what we did.
"Although he is no longer with us, his legacy and values remain and he would be proud of how the company is progressing.
"And it was a pleasure to announce that the inaugural Tony Berry memorial award was won by Nicola Marshall who works at Wild Berry Associates and who has had a phenomenal year.
"She also received an award for coming second in the 'temps consultant' category."
The London offices in Tottenham Court Road are also home to the Wild Recruitment business and its consultants Tara Langdorf and Razib Dey both picked up 'star awards'.
Wild Berry and Wild in London had a fantastic year, winning the 'highest growth branch award' and 'most profitable branch award'.
BRG's latest accounts showed an 11 per cent increase in gross profits to £14.4m.
In 1981 Tony Berry bought a controlling stake in Blue Arrow, a recruitment business in St Albans, Herts.
He grew this company quickly and acquired a number of other businesses including Manpower and Brook Street.
It was launched on the Stock Exchange becoming a FTSE 100 company and developing into the biggest recruitment business in the world. It sponsored Britain's America's Cup challenge in the late 1980s.
Tony was once voted 'best dressed man in the City' and his generosity and largesse were legendary.
In addition to his business interests Tony was a long-time director of Tottenham Hotspur and was club chairman in 1991-92.